Legal Help With Boundary Disputes
Boundaries vary from time to time, especially with the replacement of hedges or garden fences and may not follow a straight line.
We are only too well aware of how Boundary Disputes between neighbours can be difficult to resolve causing untold stress.
Eddowes, Perry & Osbourne are here to help you. David Byrne has, in his 40 years of legal experience, supported clients in Sutton Coldfield and throughout the West Midlands with boundary disputes.
He is able to deliver the best solution for you and is aware how easily a boundary dispute can develop into a major problem.
Whilst David will always try to resolve boundary disputes without court proceedings, he has acted in both the County Court and the High Court, where it has been said that David has a keen legal eye.
We have all heard the expressions that, 'possession is nine-tenths of the law' or even that,  'an English man's home is his castle'. Well, this does not mean that 'he' has sole control over what happens on or around 'his' property and no one else can tell 'him' what to do. If you have a neighbour like this then come and see David. He can help and will even give you a first 30-minute interview FREE of charge. Call Eddowes, Perry and Osbourne now on 0121 686 9444 or David direct on 0121 820 3685.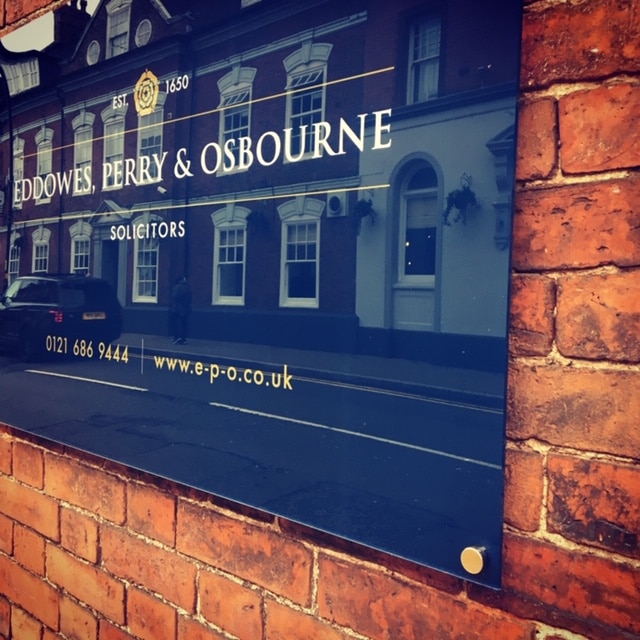 Nothing was too much for him
David really made me at ease and helped me through the whole process. Nothing was too much for him and he always made time for me.
Brilliant to buy and sell with and extremely helpful
Extremely helpful and patient with our neverending purchase and the many queries involved. You were recommended to me by my Great Aunt who had sold her home with your help. Easy to contact – you've been brilliant to buy and sell with and extremely helpful and kind through both processes! 10/10
Hannah Smart
In safe hands
I can't thank David Smith enough for the way in which he handled my divorce. His friendly and approachable manner was much appreciated, throughout what was inevitably a difficult and emotional time. He also fought my corner with tenacity, leading to a fabulous financial settlement. At a time of such uncertainty, it is reassuring to know that you are in safe hands……I would not hesitate to recommend David to anyone going through the same experience.
Happy & confident with the service
I felt happy & confident with the service and have recommended. Contact via phone was good and a reasonable quote quickly.
Jane Mckay
Always kept me up to date, very responsive
Always kept me up to date, very responsive. Upbeat even when the purchaser was being a pain! My father has used EPO for many years. Your fee seemed at the right level given the work you carried out and your strong level of expertise.
Graham Clark
Huge thank you to David
Huge thank you to David for making a horrible stage of my life, going through a hostile divorce a whole lot more bearable. Don't know how I would have got through it without you.
Very approachable
Kimberley explained everything to me along the process and was very approachable.
Karen Griffins
Great, clear advice delivered in a personable manner
David's advice was critical in resolving a complex family matter. Without his involvement, the case would have stalled. He helped me to understand the legalities of the situation and provided direction in what I found to be a highly confusing situation. Great, clear advice delivered in a personable manner.
Professional, friendly and reassuring
EPO were my parent's Solicitors for years – dealing with conveyancing and probate for both Both Kimberley and Karen were professional, friendly and reassuring throughout the whole stressful process.
Sarah Moss